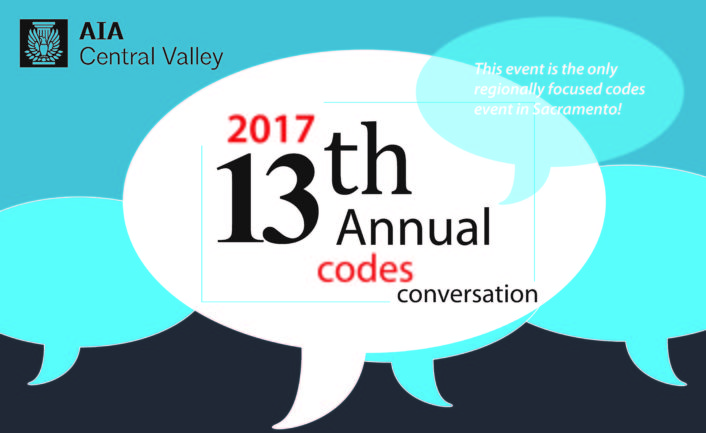 CANCELLED: 2017 Codes Conversation
THIS EVENT HAS BEEN CANCELLED
The idea of the Codes Conversation program is simple: bring together Code Officials with Design Professionals to discuss how we can work together more efficiently in the arena of codes and permits.
This year's panel will be a continuation of the informal and lively programs of the past, with very brief presentations by panelists ('NO POWERPOINT') followed by open conversation. Bring your conundrums, ideas and suggestions. Help us explore the collaborative shaping of great places for people from the perspective of BOTH sides of the counter. Get insight into code development and new code iterations coming down the line, new interpretations; similarities and differences between jurisdictions; net zero energy and what that will mean for us; new developments in accessibility; and more.
Moderated by: Michael F. Malinowski, FAIA, Applied Architecture
Panel:
– Randy Goodwin, AIA, LEED AP, BD + C Chief Building Official, City of West Sacramento
– Greg Mahoney, CBO Chief Building Official, City of Sacramento
– Steve Burger, CBO, LEED AP Chief Building Official, City of Folsom
– Ida Clair, AIA, Principal Architect, State of California
Please send your technical questions for our panel of experts in advance of the program via e-mail to: mfm@appliedarts.net
Date: Wednesday, November 8th, 2017, 5:30 – 8:00 pm
Time: 5:30 – 6 pm: registration and refreshments, 6 – 8 pm: panel presentation and Q&A
Location: AIACV, 1400 S Street, Suite 100
Cost: $10 AIA members/ $15 Non-members / $5 students
Learning Units: 2 AIA HSW Credits
Register at: 2017codes.bpt.me
Click here for a flyer.