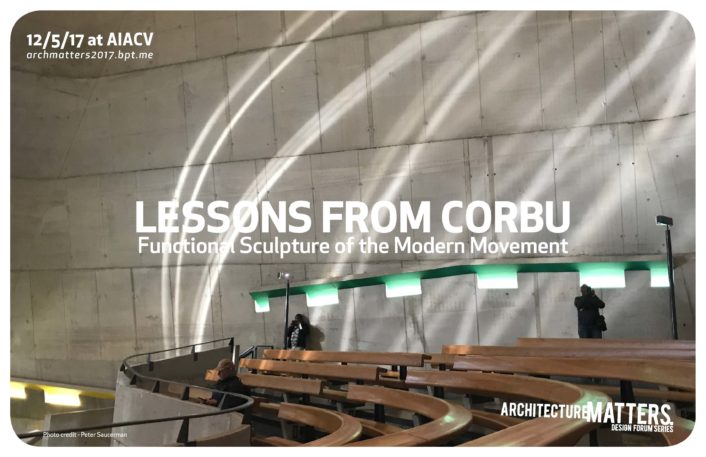 Architecture Matters Design Forum: Lessons from Corbu
Join hosts Arturo Levenfeld, AIA, Saxon Sigerson, AIA and Kris Barkley, AIA for a slightly different evening of discussion with architects Etienne Louw, AIA and Peter Saucerman, AIA on the legacy of Swiss architect Le Corbusier.
In his book Towards a New Architecture, Le Corbusier wrote Space and light and order. Those are the things that men need just as much as they need bread or a place to sleep. Has Le Corbusier provided for these elevated needs with his architecture?
Explore three Corbu projects through the lens of a recent architectural tour of his work in France as experienced by Peter and Etienne. We will have a presentation followed by an open discussion led by Arturo Levenfeld, AIA.
Date: Tuesday, December 5th, 2017, 5:30 – 7:30 pm
Place: AIA Central Valley Gallery, 1400 S Street, Suite 100, Sacramento CA
Cost: $10 Members/$15 non-members (includes dinner). Students are free w/o dinner, or may register as a member to add dinner.
AIA/CES: 1.5 LU
Register here.
Click here for a flyer.