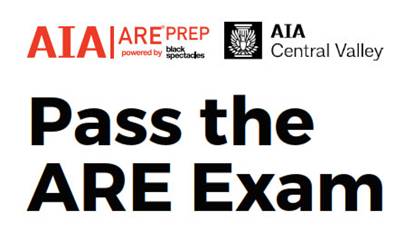 ARE 5.0 Prep Session 2 – Registration Open!
Join fellow ARE candidates to:
– View the AIA ARE Prep video tutorials as a group
– Ask questions and get clarification from on-site local AIA members
– Gain full access to the courses after class and anytime during the three-month session
Session 2 courses include the two transitional courses: Project Planning & Design (PPD) and Project and Development & Documentation (PDD). Video tutorials will be shown in the Chapter gallery Saturday mornings from 9:00 am to 12 noon.
The Chapter is offering our local members special pricing via a component license. You'll save 45% off course fees by registering directly through AIA Central Valley!
Click here for a flyer with full details.
Click here for a form to enroll by August 22nd.