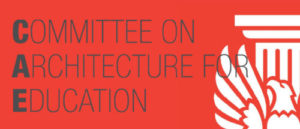 In 2018, the Chapter formed a new Committee on Architecture for Education (CAE). The AIACV CAE is a group of local architects and allied professionals (designers, builders, learners, educators, administrators, and the public) that come together to share knowledge toward a common purpose: improving the quality and design of our educational environments.  The committee meets regularly to plan school site tours and networking events as well as community service programs.  We believe in the power of well-designed schools and the positive impact they have on students, teachers and the community…don't you?
To participate and join the committee meetings, please e-mail AIACV at info@aiacv.org or Laura Knauss, AIA, Committee Chair at laura.knauss@lionakis.com
2020 Meeting and Events:
There are currently no meetings or events scheduled.
Past Events:
AIA National
The Committee on Architecture for Education (CAE) is a large and active group of architects and allied professionals concerned with the quality and design of all types of educational, cultural, and recreational facilities.
Visit the AIA National Knowledge Community for the Committee on Architecture for Education: https://network.aia.org/committeeonarchitectureforeducation/home
Resources
Association for Learning Environments (A4LE): https://www.a4le.org/
The Association for Learning Environments is a professional 501 (c)(3) non-profit association whose sole mission is improving the places where children learn.
Division of State Architect (DSA): https://www.dgs.ca.gov/DSA/About
The Division of the State Architect (DSA) provides design and construction oversight for K–12 schools, community colleges, and various other state-owned and state-leased facilities to ensure that they comply with all structural, accessibility, and fire and life safety codes. To promote consistent knowledge and application of the California Building Codes, as well as information for successful plan review and construction of projects under DSA's jurisdiction, DSA offers classes through its DSA Academy.