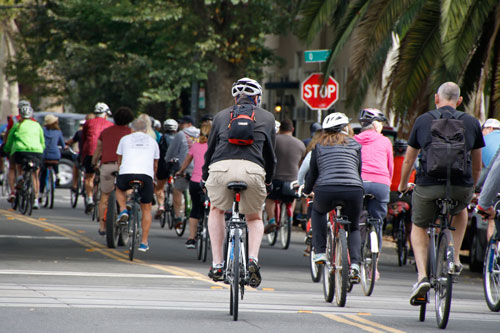 Photo Credit: Phil Kampel

Join our popular bicycle ride to see the latest in architectural design and development in Sacramento! The tour starts at the AIA Central Valley Chapter office at 1400 S Street, Sacramento. Leisurely ride with us on flat and shady public streets during this eight-mile ride. get special sneak peeks at new developments, designer commentary and a stop at the end for refreshments. Return directions will be provided. Due to popularity, it is advised to register early.
There are 18 stops planned, including: Sacramento Republic arena site; Golden 1 Center / Sawyer Hotel, Kaiser site; 700 K Block; and the 20 PQR Condos to name a few.
A signed liability form is required to participate. Please come prepared with your bicycle, helmet, water and sunscreen. Register now for your guide map and more information!
Sponsors: The HLA Group | Landscape Architects & Planners, Inc., Comstock's Magazine, Flint Builders, Fulcrum, California Surveying & Drafting Supply, Lionakis, Milgard , SMUD, Buehler + Buehler Structural Engineers, DPR Construction, and Nacht & Lewis.