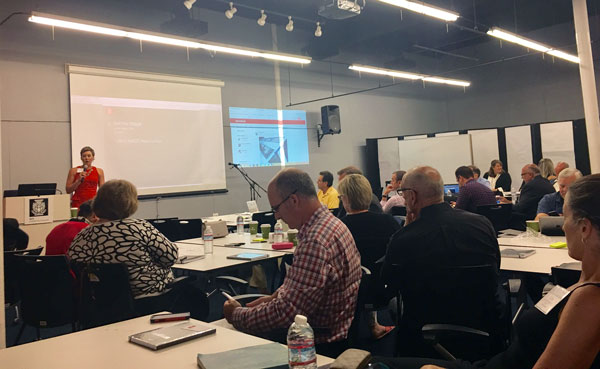 Executive Director's Message
by Kimberly Anderson, Hon. AIACC
Summer is definitely not a quiet time here at AIA Central Valley. Here are some highlights of what volunteer members and Chapter staff have been up to over the last few months:
Experience Architecture….it's really hard to believe this is our 6th year! Event leaders have been working diligently to design fun, interactive events that promote the value and impact of architecture in our community, and we've contracted with Uptown Studios to promote the events and increase participation.
There are five art exhibitions and eight events taking place from Wednesday, September 20th to Sunday September 24th. We're also delighted to include two pre-events: Sacramento United Parking Day and the Preservation Sacramento Historic Home Tour. Get all the details here in the 2017 Experience Architecture Guide, and watch for the hard-copy guide in the September issue of Comstock's Magazine. Make sure to share the registration link with friends and family–all are welcome! It's important to note that this event would not be possible without the generous support of our sponsors and event guide advertisers. Click here for a complete list and be sure to thank them for making this event possible!
Of course, the "big kahuna" event of Experience Architecture is our 75th Anniversary Gala & Design Awards! Spiff yourself up Saturday, September 23rd and be there! Your volunteer planning committee has created an incredible celebration that you will not want to miss: delicious family-style locally sourced meal, hosted bar, 75th exhibits, guest speakers Richard Rich and Paul Welch, Jr., Hon. AIA, design awards presentation, music/dancing, photo booth, dessert bar, champagne toast–and of course time to celebrate with those who have made this Chapter what is today, and what it will be in the future. Register by September 7th.
While you may be aware of Winn Park, it's not likely that you've spent much time there. AIA Central Valley, Midtown Association and the City of Sacramento are all working to change that. This summer the Chapter's emerging professionals, initiated by Kevin Young, Assoc. AIA, partnered with the Midtown Association's Placemaking Program and the City of Sacramento to create an ideas competition to activate the historic vacant building in the center of the park. With 12 teams entering, a dynamic jury and a big grand prize winner–it was a great experience–and we have high hopes that Winn Park is going to be transformed in the near future.
The always popular emerging professionals Firm Tours took place in August, this time focusing on firms on, or near, R Street. We were thrilled to have over 100 attendees visit new and long-standing firms, as well as two allied member companies. Many thanks to all the firms that opened their doors.
We are continuing our partnership with Sparrow Gallery on the Art X Architects exhibition, now in their new large gallery on R Street. Owner Cynthia Lou showcases the talents of our artist/ architect members in the show, as well as private exhibitions of their work during the year. Check out this article in the Sacramento Bee.
Our photography competition, Architectura Obscura, also took place this summer. Founded by Kris Barkley, AIA it features both hard copy photographs and Instagram submittals. Award-receiving images are featured in the 2017 Experience Architecture Guide and at Uptown Studios starting Second Saturday, September 9th. Our thanks to Comstock's Magazine and Visit Sacramento for their involvement in this competition that links architecture and photography together.
Not everything happens in Sacramento…this summer also involved travel!
In July, Chapter President Brian Whitmore, AIA and I attended the AIA California Council 2-Day board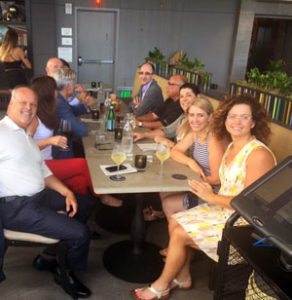 meeting at the New School of Architecture and Design in San Diego. In addition to procedural matters, there was a discussion on the future of architectural education and potential re-alignment options for addressing regulatory and legislative affairs on the Executive Committee. For many, the highlight of the meeting was an interactive "hack-a-thon" that challenged small groups of board members to answer the question "How can AIACC help architects inform the world around us?" Each team brainstormed their ideas on large sheets of paper, eventually drilling down to create focused topic questions. Many of the results centered on climate change and social equality (including my group). Additionally, all the Chapters posted their current program flyers and initiatives on bulletin boards, providing a great opportunity to share ideas and see all the energy and activities gong on across the state of California.
In August I attended the AIA National CACE Conference in Portland, OR.  It felt just like home thanks to an unprecedented heat wave! This annual meeting is specifically for leaders of AIA Components and centers around continuing education, updates from National and opportunities to network. The keynote address was on "Implicit Bias and Its Impact on Leadership & Decision Making" led by Dr. Shirley Davis, CSP, President and CEO, of SDS Global Enterprises. Dr. Davis asked a series of questions that uncovered some of the unconscious biases that are a natural function of our human brains. These biases can have a impact on recruitment decisions, performance and engagement when we are not aware of them. It was timely and compelling discussion as many Chapter's head into their board nomination / election and strategic planning cycles. I was also asked to present on a continuing education panel with two other Chapters on Architectural Registration Exam programming–specifically how the AIACV is using the AIA Black Spectacles videos and local AIACV members to help prepare for the ARE. The transition from ARE 4.0 to 5.0 is on the top of everyone's mind, and it was great to network with component leaders and AIA staff on trends and approaches to the transition.
As we head into fall and early next year, watch for a killer Big Association Party, new programming from the re-activated Academy of Architecture for Health Committee and a new Materials Matter program from our Committee on the Environment. One thing we won't be doing for now is relocating the Chapter office. After much envisioning, discussion and site visits with AIA California Council and the Chapter to check out potential locations for a joint office, we have decided to stay put and renew our lease here at 1400 S Street.
Thank you for your membership in AIACV, your participation and your friendship. Please don't be shy in reaching out anytime to me (or your Board of Directors) if you have ideas, suggestions or feedback.