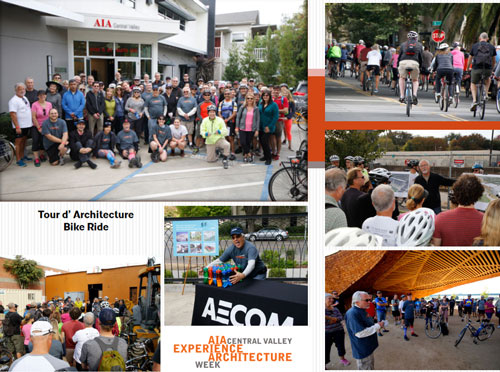 Experience Architecture 2016 Wraps Up!
It was a great long weekend celebrating architecture, and providing opportunities for those both in and outside of the profession to "experience" architecture and the built environment.
The fifth annual Experience Architecture public outreach event ran from Thursday, October 20th to Sunday, October 23rd. The most popular event this year was the Julia Morgan, "Architecture as an Art of Form" presentation at the Julia Morgan House, followed closely by the Tour d' Architecture Bike Ride. We had 20 volunteers assist through the "Sign Up!" website–and of course, our event leaders and Chapter staff as well.
Our sincere thanks to ALL of the event leaders / planning committee members, presenters, sponsors, volunteers and participants who made this event possible! A special call-out to our event leaders Kris Barkley, AIA, Bob Chase, AIA, Mark Huck, AIA, Peter Saucerman, AIA, Ian Merker, AIA, Maria Ogrydziak, AIA, Saxon Sigerson, AIA, and William Burg for stepping up to lead events. Experience Architecture is a team effort!
Click here to view photos from all of the events.