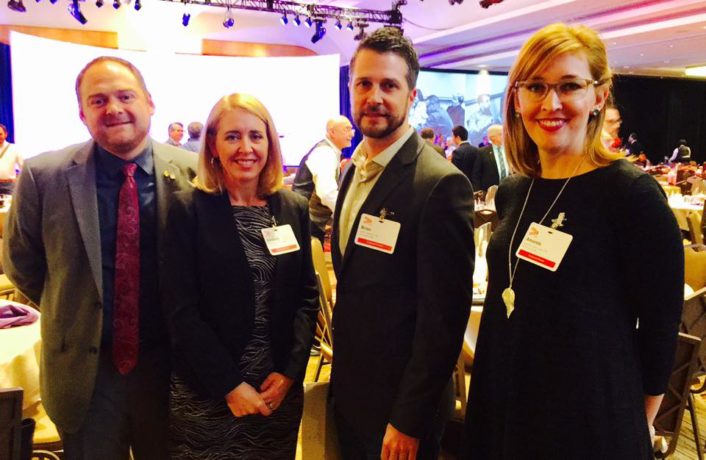 Grassroots Experience (Associate's Report)
by Amanda Green, Assoc. AIA
DLR Group

Last week I attended the 2017 AIA Grassroots conference in our nation's capital, Washington D.C., with our Chapter President, Brian Whitmore, AIA and Executive Director, Kimberly Anderson, Hon. AIACC.  The Chapter started funding this trip in alternate years for either our Emerging Professional Director, or Associate Director a few years ago.
The conference was an overall success and very inspirational, but I didn't truly understand its significance until the last night of my trip when I toured some of our nation's treasured monuments.  The words of great men, carved in stone, were words of hope, passion and desire for a world of progress and equality.  They fought and sacrificed for a better world and for a world they believed in.
While a two-day conference doesn't really hold parallel to the Civil War, by any means, having our leadership conference in this particular location creates a palpable energy that's unique and crucial to its mission.  Grassroots is a chance for AIA Leadership to come together and discuss issues and challenges facing all of us within our profession.  For most of us, being an architect is not really a choice–it's our world.  Architecture is not just our profession, but our way of life and how we've all chosen to participate and contribute to our society.  People attending, hosting and speaking at the conference were all people selflessly dedicated and willing to give their time and effort to contribute to our world.  Members their opinions passionately to create unique and cohesive responses to issues such as relevance, urbanism and global climate change.  They, like our founding fathers, believe that what they're doing is not only important, but crucial to the healthy proliferation of our society, not only for us, but for all generations to come.
I am so grateful to be a part of a Chapter that is willing to acknowledge the importance of being part of the conversation.  We're a Chapter that doesn't just sit back and watch the world change around us.  Like Thomas Jefferson, Abraham Lincoln, and Dr. Martin Luther King, AIACV actively participates in not just shaping the conversation, but leading the conversation. For that I am proud.