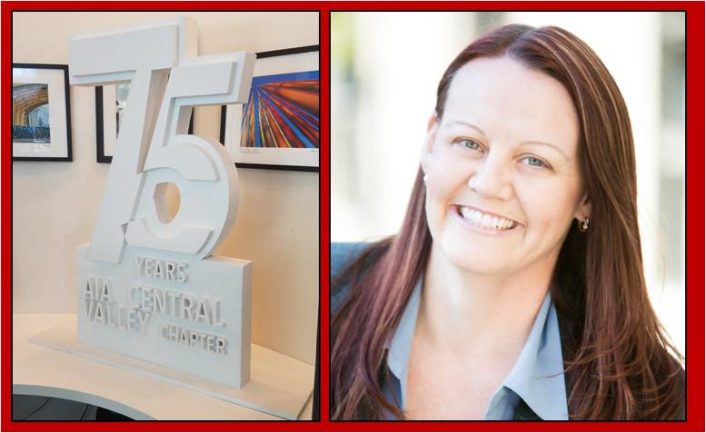 Looking Fine at 75
You're invited to the AIACV gala celebration Saturday, September 23rd!
By Genevieve Vargas, AIA
Board Secretary
The Chapter is celebrating a big milestone, it's the 75th anniversary of the year we became a chartered Chapter of the American Institute of Architects!
Back in 1942 a group of five charter members started the Chapter, and we have now grown to 547 (and counting) members. From our first Chapter president, Leonard Starks, AIA to our current president, Brian Whitmore, AIA, our organization continues to impact and shape the architectural community and beyond.
Our leaders and members have continued to expand the vision and significance of the organization by consistently offering high-quality, innovative and informative events to our members and the larger community. From the Experience Architecture public outreach event, to Architecture Matters Design Forums, to joint ventures with allied organizations, building tours, design competitions, biennial design awards and countless other programs, we strive to be a valuable resource to our members and increase the relevance of the AIA in our region each and every year.
We are especially proud of our amazing group of engaged emerging professionals. Recognized by AIACC's Academy for Emerging Professionals in 2015 for their excellence in program development, this group is active at the national, state and local levels of AIA, NCARB, and CAB, among others. Their collective creativity, energy and dedication are key to our success today and will ensure the continued prosperity of our Chapter and the profession in the years ahead.
As you can see, we have a lot to celebrate!
A task force has been meeting since last December to plan an amazing gala event for Saturday, September 23rd at Lincoln Plaza in Sacramento. Held during our 6th Annual Experience Architecture event and in combination with our design awards, it's going to be a great night of looking back, looking forward and most of all–having FUN. Watch for an announcement in your mailbox, but in the meantime, save the date.
We value and are grateful to every one of our AIA Central Valley members. Together we represent a remarkable Chapter of the American Institute of Architects. Come and celebrate this milestone that is the legacy of your Chapter.