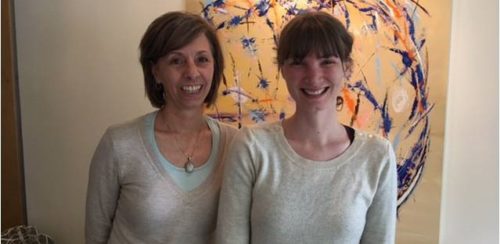 Mentor Spotlight: Jennifer Harris, Assoc. AIA & Alicia Moniz, AIA
by Amanda Green, Assoc. AIA, AIACV Associate Director

In an effort to highlight successful mentoring relationships within our Chapter, Associate Director Amanda Green, Assoc. AIA will be interviewing members on their experiences. If you're not currently mentoring (or being mentored) we hope this series will motivate and inspire you!
I recently had the great pleasure of interviewing Jennifer Harris and Alicia Moniz, of Moniz Architecture, about their unique mentorship relationship.  Alicia is a Principal Architect, and owner of Moniz Architecture, while Jennifer is a Project Designer.  They work closely together on all of their projects and have a clear partnership when it comes to their professional relationship.  I wanted to explore how their mentorship relationship started, how it's grown, and how they continue to support each other professionally and personally in their adventures together.  Here's what they had to say:
Background:
Alicia is a licensed architect and has been the sole proprietor of her firm since 2005.  Moniz Architecture is a small firm focusing on public agency, senior housing, and commercial projects.  Jennifer has been working for Moniz Architecture for 3 years, is heavily involved with the Emerging Professionals group of the AIA Central Valley Chapter, and is currently on the path to licensure.

How did your mentorship relationship start?  Was there a discussion or formal conversation?  Or was it more casual because you, Jennifer, started working at the office?
Jennifer: I was introduced to Alicia through an architect at the firm who I met at AIACV's Speed Mentor Match, and was eventually hired through that connection.  The mentor relationship started when I started working with Alicia.

Jennifer, what is the best piece of advice or knowledge that Alicia has given you as a mentor? 
Jennifer: I've been able to see how she runs the business and how to go after jobs.  I often go on project interviews, which I wouldn't be able to do if I worked for a larger firm.  That's probably the most valuable thing that I've been able to take away from working with Alicia.
Alicia: I never really thought of us as having a formal mentor/mentee relationship because we work together on projects and because the concept didn't exist when I started out, so in a way, every employer is inherently a mentor to a certain degree.

Alicia, what is one specific thing that you have learned, or experienced, from being a mentor/boss?
Alicia: I think I have learned that there's always a lot to learn from the younger people.  I really enjoy when they bring forth new ideas that aren't even on my radar like new software or new ways of doing things.
Jennifer: It's been really nice to have exposure to all types and phases of projects, to see what I like and what I excel at.
Alicia: I would say that she's probably gotten more exposure to the construction phase than I did when I was at her level.

Beyond architecture, what have you learned from each other as far as work-life balance, communication skills, leadership skills, etc.
Jennifer: We'll often attend events together, which is nice, but Alicia is really good about exhibiting a work life balance example herself and is really good about allowing me the flexibility to have a good balance, as well.
Alicia: One of things that I've enjoyed watching is how involved Jennifer has become with the Chapter's Emerging Professionals.  I tend to just sit at my desk and work and it's great that she's been able to make a place for herself there and play a role in the Chapter.  She's become a role model for me!  She invited me to be a Sage for the ARE Black Spectacles class and I would never have done that without her involvement.  Learning has definitely been a two-way street.

Jennifer, how has being involved with the EP group shaped you?
Jennifer: It's been really beneficial, especially coming from a small firm.  Since it's just us, it gives me the opportunity to interact with other Emerging Professionals from other firms and get a wider spectrum of interaction with people.  I also think it keeps us informed.  It is really easy to sit back and work and miss out on a lot of events, but being involved forces you to stay in the loop.  It's been very positive.
Alicia: I wish I was an Emerging Professional!  You guys have so much stuff going on.  When I had partners, they did not want to spend the money to be AIA members, but once I became a sole proprietor, I decided to join to stay connected with my peers.

Alicia, how has being a mentor helped enhanced your management skills?
Alicia: Being a mentor, or really an owner of a small firm, has made me more aware that there are things I should be thinking about in terms of mentorship.  It's made me step back and really think about how my actions affect another person.
Alicia, what advice do you have for other people in our community that are currently in a mentor role, either a boss or a project manager, or are thinking about taking on a mentorship role?
Alicia: I think that they will have more to gain than they realize.  It's a two-way street.  You learn more than you'd probably ever expect.  The other thing that's rewarding about being a mentor is that it makes you aware of how much you have learned and how experienced you really are in the industry.  It makes you appreciate your own path.

Alicia, what is your favorite thing about Jennifer as a person?
Alicia: She has cats named Archimedes and Merlin!  Also, she's not afraid to challenge me and I think she has good long term goals.  She's fun and I just like her!  She's a nice person and it's nice coming to work knowing that you're compatible with someone you work with.
Jennifer: We have a trusting relationship.  We're able to push and stretch our relationship and still know that there's a level of respect there.

Jennifer, have you been able to take on any mentorship roles yourself, yet?
Jennifer: Not in a long-term manner, but there have been a couple of instances where I've met and had coffee with people who are in the same stage of licensure as I am to talk about either my recent testing experiences or just commiserate on what we're going through.

Jennifer, what advice would you give to people in our community trying to start a relationship with a mentor?
Jennifer: Take the initiative yourself.  Get involved and you'll open the door to people who are willing to mentor you.  Don't just sit back.  Just getting involved in anything has a chain reaction because you don't know where a path will lead. So, just be open to all experiences.  Do anything!

Jennifer, what is your favorite thing about Alicia as a person?
Jennifer: By chance, I've always worked for very strong female role models.  Alicia is very assertive and she really speaks up.  I think that's been a really great influence for me to see a woman demonstrating strength, especially in our profession.
Final thoughts
Alicia: Mentoring doesn't have to be a big formal commitment.  It can coffee or an informal interview. Sometimes it's just moments!
*             *             *
Have a great mentor you'd like to highlight? Contact Amanda Green, Assoc. AIA, AIACV Associate Director at agreen@dlr-group.com