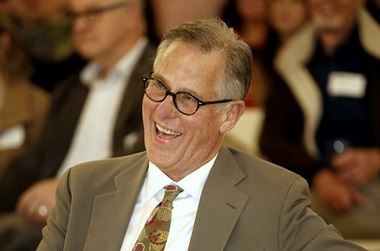 President's Message
by Brian Sehnert, AIA
President, bVerdant Consulting
Thank you for electing me as your 2018 AIACV President. I look forward to serving you and the organization.
We rang in the New Year with an outstanding event held January 18th on the ground-floor retail space of the new Ice Blocks. We celebrated the installation of our Board of Directors, and enjoyed a surprise visit from the Mayor, who regaled us with several of his main objectives for the City of Sacramento. Many of his plans align with our own professional interests: affordable and workforce housing, economic development, project financing and place-making.  We are excited for the opportunity for the AIACV to be at the table with the Mayor's office to discuss the character of building in Sacramento and help shape some of the policy measures that will be put in place over the next 3 years.  In addition, we are renewing an ongoing dialogue with City planning and staff to affect development.  This year we welcome Greg Taylor, AIA (Project Manager in the office of the Director of Public Works) to our Board; he will offer us additional insights and wisdom about how to advocate for our profession.
Previously, in December 2017 – and in planning for 2018 – I had the privilege of pulling together 30 of the most creative and forward thinking design professionals in our community, and facilitating a charrette that helped further define our objectives for this year.  I have three main goals, several of which I am building on from the great leadership we have had over the last several years:
Building Design Education & Performance
Big title… big subject, but it is what we do! We will continue with building tours and lectures of notable projects designed by our members.  The popular Architecture Matters series will continue to delve into the subtleties and depth of design.  We are renewing the Dialogue Series, which invites extraordinary architects, both in the Sacramento region and beyond, to share their design philosophies and the practices they put in place.  We will more deeply explore "Regionalism", that is; what influences the design and construction of our buildings in Sacramento that makes them and our region unique.
Building Design Advocacy
AIACV continues to increase our relevance in the community through advocacy, supporting well-planned and well-designed projects that enhance and energize neighborhoods and respect residents, pedestrians and the environment. In addition, we are at the table regarding the I Street Bridge design, riverfront and cultural district development.  The PASS (Prequalified Architectural Submittal System) training program is being offered at the AIACV Gallery. This program is the only regional streamlining permitting program in use in 17 jurisdictions (and counting) throughout the Sacramento Valley for projects ranging from Commercial TI's to new commercial & multi-family projects of any size.
Supporting Emerging Professionals (EP) & Affiliates
The Chapter is incredibly fortunate to have an active group of Emerging Professionals and Allied Members that support our ambitions and represent the future of the profession. As President, I intend to continue to make our Emerging Professionals a priority to be certain their objectives are met.  Our Chapter is very proud of our innovative Architectural Registration Exam (ARE) / AIA Prep courses, as well as upcoming Professional Development seminars for young professionals.  The recent EP kick-off event, Connect & Create, reviewed the many offerings being presented in 2018 and galvanized the Chapter around the growing homeless housing issue in Sacramento. The event introduced an opportunity to be involved in the design of personal homeless shelters as well as expanded housing and services for the homeless community.
In closing, AIACV has an outstanding Board this year (visit http://aiacv.org/about/board-of-directors/) and I am proud to serve with these capable professionals.  Our Committee engagement is also very strong right now, with many new opportunities for professional development forthcoming.  You will be hearing more about these subjects in the future through NOTES from our Vice President, Genevieve Vargas, AIA.
Again, I look forward to serving you. Please feel free to reach out to me directly with comments, questions and suggestions: brian@bverdant.com.