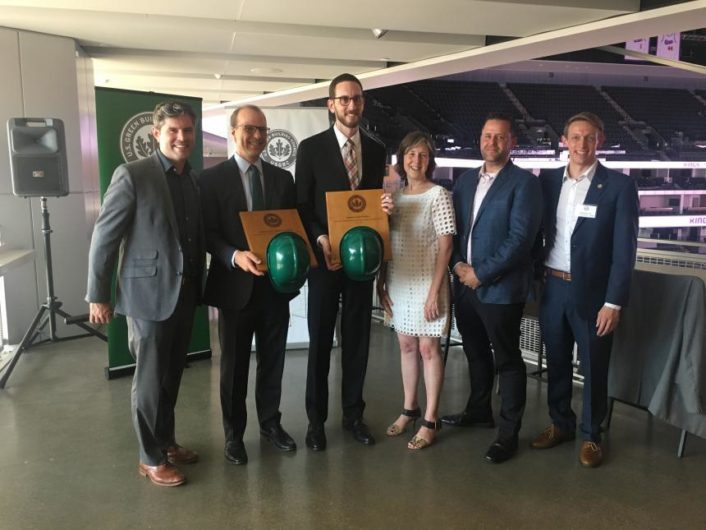 Review of USGBC NCC ARENA Event
Feature image: Brenden McEneaney, Commissioner McAllister, Senator Wiener, Senator Skinner, Wes Sullens and Jeremy Sigmon. Photo courtesy of California Energy Commission.
by Susan Rainier, AIA
On the evening of June 21, the USGBC Northern California Chapter extended an open invitation to attend what was originally planned as a LEED Platinum Tour of the Golden 1 Center, but morphed into "Green Hardhat Awards" event.
There was a presentation honoring California Energy Commissioner Andrew McAllister and California State Senator Scott Wiener "for their leadership in public policy for sustainability and green buildings." It turns out that the Golden 1 Arena is "The First LEED Platinum Indoor Sports Stadium". (I'm guessing in the United States, or perhaps even the World?) It is exactly this claim that has been of great interest to me in fully understanding what the credit structure was for the this building type that makes it possible for it to achieve the highest bar in LEED.
Other building types such as: existing buildings, residential, commercial, institutional, high rise and newly added data centers, all have criteria focused on the particulars of uniqueness of the building. It was unfortunate that this particular arena tour did not give any information on the specifics of LEED achievement.
It was quite interesting to hear that the massive roll-up doors that are touted as a green feature "are hardly ever opened because the breezes might affect the ball movement." What a pity to lose that natural air conditioning and ventilation.
"USGBC is moving across the planet and they are looking for leadership wherever they go", Jeremy Sigmy, USGBC policy man, said, USGBC is "moving markets" across South America, Europe, Asia and that they are even taking their GreenBuild conferences around the world. He went on to say that USGBC was founded in California and that USGBC is proud that California is the biggest piece of their community and their business transformation movement.
The awards ceremony was designed to show leadership in the State Government how grateful USGBC is that our state leaders move things forward, whether it's moving toward 100% renewable energy,electric vehicles or grid modernization. They shared "that the rest of the country looks to California for leading in sustainability"
Commissioner McAllister, from the California Energy Commission was the first Awardee of Green Hard Hat for his work with greenhouse gases for the state.
Senator Nancy Skinner from the Berkeley/Oakland bay area was present as a mentor to Scott Weiner, the second recipient of the green hard hat.
Senator Scott Weiner was previously a SF Supervisor champion for affordable housing, climate resilience, water conservation and energy efficiency that was recently elected to the Senate representing San Francisco.
Sen. Weiner honored USGBC in their "quest to get better and better going farther and farther" which is so important, especially with what is happening at a Federal level. "California has to step up, set the example – it is very important work."
He went on to say "we cannot take for granted the gains we've made with codes, there is still a lot of work to do.
One example is resistance to energy storage, many believe there are too many energy storage bills. We have to keep fighting for the strides we are making, yet there are other areas we need to get into like water reuse (learning from Australia and Israel) where California needs to catch up. There is fighting over this resource by big interests, yet the technology is here, we know how to do it.
No sustainability agenda is complete without addressing transportation and housing. In my opinion, one cannot be an environmentalist without being pro transit – 40% of GHG are from transportation in California and we are exacerbating this by pushing people to longer and longer commutes.
We have to encourage forward-thinking people who are planning for the future generations to have a place to live. With shorter commutes we are protecting the environment. Senate Bill 1 just passed for public transportation." I think Sacramento can easily relate to what Sen. Weiner is saying; we have similar issues.
To achieve the highest LEED certification, projects must earn more than 80 points on a scale that evaluates energy management, water efficiency, environmental quality, transportation, materials utilized and more. Golden 1 Center earned enough points to receive platinum designation – placing it in the top 3% of all buildings certified and the highest total for any sports facility in the world.
"California has more green buildings than any other state in the nation and Sacramento's new arena is an example of the elegant design and construction we need to meet our ambitious climate goals," said California Governor Jerry Brown.
"We worked with the Kings to design Golden 1 Center for fans, city and planet," said Bill Hanway, AECOM's global sports leader. "Our architects, sports designers, sustainability experts, engineers, urban planners and landscape architects worked together from the beginning to shape an indoor-outdoor arena that is revitalizing downtown Sacramento and setting a new global standard for sustainability."
Golden 1 Center's downtown location makes the arena accessible by bike, bus, foot, light rail or Amtrak. Solar energy provides all of the building's power. Giant aircraft-hangar doors open (albeit only on occasion) to the cooling Delta Breeze, and a public plaza with water-saving gardens welcomes the community year-round.
"From the beginning, we've strived to be the greenest team, representing a region that embraces conservation and care for the environment," said Kings President Chris Granger. "Golden 1 Center will stand out as a global model for how businesses, communities and designers can think about the environment in innovative and intelligent ways, without compromising quality and comfort." "Early collaboration in our integrated design approach led to important innovations," said Alastair MacGregor, AECOM's vice president, high-performance buildings. "For example, a first-of-its-kind displacement ventilation system saves energy and improves fan comfort by delivering conditioned air directly beneath the seats and allowing people to influence the temperature through an app on their phones."
Sustainable aspects of the project from AECOM's Website:
Key sustainability metrics for Golden 1 Center include:
First 100% solar-powered professional sports venue
45 percent reduction in water use over stringent California code
30 percent reduction in energy use over stringent California Title 24 code
2,000 fewer tons of annual carbon emissions
99 percent of demolition materials recycled
95 percent of construction waste diverted
36 percent of construction materials from recycled sources
30 percent of construction materials from regional sources
90 percent of food and beverage concessions sourced from within 150 miles
First venue to solicit crowd-sourced feedback to maximize fan comfort and minimize energy consumption
Largest onsite bike valet program at a sports venue
Reviewing this list brings to my mind the following questions:
What was done for sensitive land protection location & transportation? Anyone who knows me knows that I think the freeways at the river should have been fixed for any such development like an Arena in downtown.
What was done for construction activity pollution prevention, protecting or restoring habitat, open space, rainwater management?
Was heat island reduction addressed? Is there building-level water metering Is cooling tower water used?
How did fundamental commissioning and verification go for this building type? Was enhanced commissioning done? Wouldn't it be interesting to know if they are doing advanced energy metering and demand response? Did they address building life-cycle impact reduction?
Did they address building product disclosure and optimization – environmental product declarations? Sourcing of raw materials? Material ingredients? Low-emitting materials?
How do they rate on indoor air quality? I wonder if they are focused on wellness with the sound decibels in the Arena for hearing wellness?
While it nice to see so many folks from San Francisco and the State, yet other than Sen. Weiner's inspirational acceptance speech, we were taken on a normal arena tour about certain Arena amenities.
Where is the beauty of Sacramento – the sun, the trees, and the rivers?
How about talking about the old arena? The idea I'm putting forward is to take the skin off and turn it into a glass covered world-class botanical garden.
Susan Rainier, AIA is an architect in the Sacramento, California region who is a leader in advocating for ever higher levels of sustainability. She is the Facilitator for the Living Future Institute, leader within the USGBC Capital Community and AIA Committee on the Environment (COTE). She is the Founder of the speaker series VISIONARY where leading edge game changers are brought to the Sacramento Region from various disciplines.