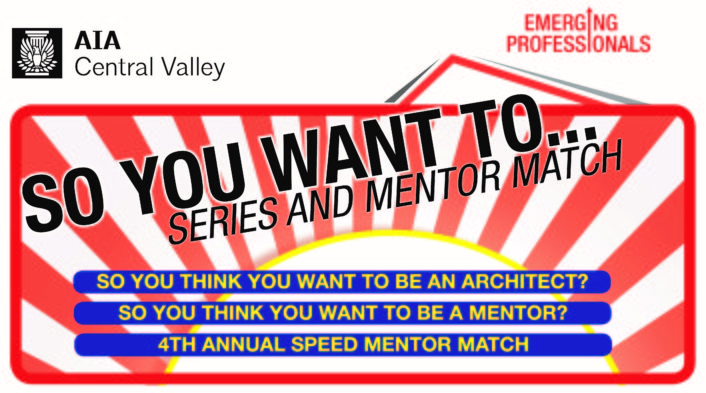 So You Want To… Series + Mentor Match 2017
This engaging series provides information and resources for those seeking to become architects, and those ready to mentor, as well as facilitating new relationships between mentors and mentees. Speakers for each event to be announced!
Click here for a flyer. Register for events at: http://www.brownpapertickets.com/profile/10754
SO YOU THINK YOU WANT TO BE AN ARCHITECT?
Tuesday, April 25th, 5:00-7:30 pm (light refreshments and mingling first 1/2 hour, program starts at 5:30)
Cosumnes River College – Winn Center, 8401 Center Parkway, Sacramento CA
Get your NCARB, IDP, and CAB questions answered, learn about study resources available to you, and connect with local professionals!
Speakers: Amanda Green, Assoc. AIA, NCARB Licensing Advisor, AIACC and Timothy Rodda, Examination/Licensing Analyst, CA Architect Board, various professionals from different licensure paths
SO YOU THINK YOU WANT TO BE A MENTOR?
Tuesday, May 9th, 5:30-7:30 pm (light refreshments provided)
HGA Office, 1200 R Street #100, Sacramento CA
This informative event will give you the resources and information you need to become a relevant and effective mentor and AXP supervisor. Our diverse panel of mentors all have great insight and perspective behind the how and why of mentorship, as well as the ins and out of being an AXP Supervisor. Get answers to questions such as:
FOR MENTORS:
How do you approach the process?
How can you be most effective and how much time do you need to devote?
What resources are available to help you mentor?
FOR AXP SUPERVISORS:
Do you understand the "experience reports" you are approving?
Do you worry NCARB will track you down for not knowing everything
your intern is doing?
How can you attract more staff by supporting their licensure goal?
We can answer your questions and give you information to do it right!
Panelists:
Richard Conrad, FAIA, Retired
Mike Parrott, AIA, President at Nacht & Lewis
Chris Holt, AIA, Project Manager at Dreyfuss + Blackford Architecture
Moderator: Amanda Green, Assoc. AIA, AIACV Associate Director
4TH ANNUAL SPEED MENTOR MATCH
Wednesday, May 24th, 5:00-7:30 pm (light refreshments and mingling first 1/2 hour, program starts at 5:30)
AIA Central Valley Gallery, 1400 S Street, Sacramento CA
Emerging Professionals meet one-on-one with experienced mentors – like speed dating, only more relevant to your career!