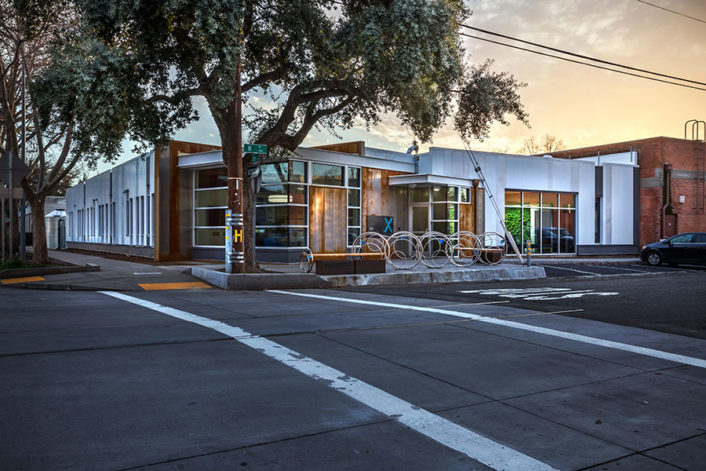 The First Living Building in California – Sacramento
by Susan Rainier, AIA
Photo Credit: Architectural Nexus
On March 2, 2017 a morning block party occurred, complete with a police car parked perpendicular on R Street making space for a live music stage. At 9:30AM the crowd was asked to sit in the audience for announcements and speeches by 2 principals, Charlie Downs and Kenner Kingston of Architectural Nexus and City Council Member Steve Hanson.
This was a day to celebrate, show gratitude, start a 12-month test, and share a well-deserved success with friends by throwing a party in a "watershed moment" both for ArchNexus and the City who were super excited and happy on this beautiful blue sky milestone day.
The regenerated and repurposed building at 930 R Street is embarking on becoming the 1st Living Building in the State of California.  The Living Building Challenge is the most stringent building standard in the world and, in fact, Living Building Certification will only be granted after 12 months of utility bills prove that the building produces 105% of the energy it uses, 5% given to the grid.
Yet energy is not the only high bar, water needs to be 100% on site and on a closed loop recycling system.  Exceptions are given, as those who strive for Living Building are required to advocate for new regulations and codes.  ArchNexus is advocating for change and has said they may need to become their own water district to achieve closed loop water recycling.  The project has been approved to use composting toilets and they have 5 thousand gallon water storage tanks on site that capture rainwater.
The unseen is the fact that all building materials have been third part verified to not contain known carcinogenic or neurotoxin chemicals.  This is highly significant because no one has any idea how hard this is to achieve.  ArchNexus found out, it was a herculean effort – Bravo to ArchNexus!
Beautiful living walls bring Biophilic design inspiration into the building.
Biophilic Design is the future of architecture.
"It is excellent to hear how the building relates to the community as an important moment for Sacramento and certainly our company" says Kenner Kingston of Arch Nexus, main speaker for the building.  "Sacramento has an International Living Future Institute Collaborative who educate about the Living Building and Living Community Challenge with ambassador presenters here in Sacramento. The Institute works to promote change – to live in harmony and balance with nature.

The Challenge is an advocacy program disguised as a certification program.  One could ask, 'Why are they doing this?'  It seems extra special and expensive – why not take on a simpler approach?  The reason for this is that buildings are the problem.  Architects and Engineers know all too well that our part of the economy uses more energy and therefore pollutes more than any other sector of the economy.  Folks might naturally think it is transportation or industry yet it is not; it's all these buildings we create. We have problems in terms of energy consumption and the down stream affects of this.  Not addressing it head-on is a serious problem.  The good news is that if you are part of the problem, like we are as architects we are, we are also part of the solution.

The AIA 2030 Challenge was conceived in 2005 and strives to get all buildings by 2030, hopefully sooner, to achieve what this building demonstrates today proving it is completely possible with onsite renewable energy.

A key context for this project and for this company is the extreme weather events that keep occurring – if anyone here is relieved worrying about flooding rather than drought you are looking at the problem all wrong – both of these issues are related to climate change, both issues are connected to buildings that are energy pigs that are wasting energy. It's all the decisions we are making collectively in our homes and businesses, not being stewards, not driving down energy consumption and water consumption that are causing the problem. Everybody here has something to contribute, so hopefully you will find something in this building that will teach you and that you will be inspired to do something different.

A key aspect of our company is that we are all about doing.  There are few other design professionals that live and work in the buildings that they subscribe and prescribe to their clients. We had to be the first with our LEED Platinum office in Salt Lake City and now with new our office here in Sacramento that will ultimately be LEED Double Platinum as well as the pinnacle of certifications: Living Building Challenge.

Living Buildings are inspired by the metaphor of the flower– why can't buildings function like nature?   Why can't buildings function without having to import energy or export waste? Why can't the proportion of development be sized to the resources available on site, that uses the water it receives, that there is enough rainwater on site to function over the course of a year – to get through drought conditions? This building does that.

Just over 10 years ago when the Living Building Challenge came out as a certification program the leaders of that group declared the incremental approach of LEED dead and I think they are right.  The incremental approach is not working; we are not making change fast enough.  We need a transformative approach that this building demonstrates.

Here are some project specifics, some things that are really unusual: This building has a reservoir on it; we have cisterns in the back, 2 – 5 thousand gallon cisterns expandable to 15 thousand.  This allows us to store enough water to use over the course of a year.  The rainwater capture will fuel onsite irrigation for native low water use plantings over the course of a year as well as the water we need to flush our toilets. We will add the 3rd cistern, when regulation permits it in the State of California, which isn't quite there yet now, we are going to work to advocate with the State Water Board to become a test site.  The building has installed within it a rainwater to potable system – these technologies exist, this is not science fiction, it exists now, it's in this building ready to run the minute the regulation permits us to use it.

Also this building has a complete sewage treatment plant.  The building has a connection to the City sewer system for emergencies only.

This building has a complete power plant on the roof and at the back of the building you will see part of that power plant. On the roof is a 100 kW system capable of generating more than enough power, 105% of the energy consumed over the course of a year.  We have plenty of contingencies in place to make sure that we achieve the goal.  This is state of the art technology that pays back in a reasonable amount of time.

Here are some of the macro-scale issues that get us to the 'why' that made us willing to take on this audacious task.  Fundamentally, Architects in particular, yet our culture in general has forgotten that we are nature, that we are part of nature, that there's not a separation between us and the world that we live in.

Often buildings are set up as dividing elements, as objects to keep us away from nature.  After you visit this building today, I hope you will understand better what the word Biophilia means in terms of the innate connection between humans and nature. This building is a complete ecosystem. It functions on it's own, in concert with the environment, in order to provide a complete experience for building occupants.  This ties directly to our company values of inspiration, stewardship and regeneration. Our stated values are manifest by the building.  That's why we did it.  We needed something that could physically show the world what we are all about."  Kenner Kingston, March 2, 2017 at ArchNexus Block Party
Website: http://www.archnexus.com/
International Living Future Institute Website: https://living-future.org/
Sacramento Collaborative:  susan.rainier1@gmail.com; nsteiner@glumac.com